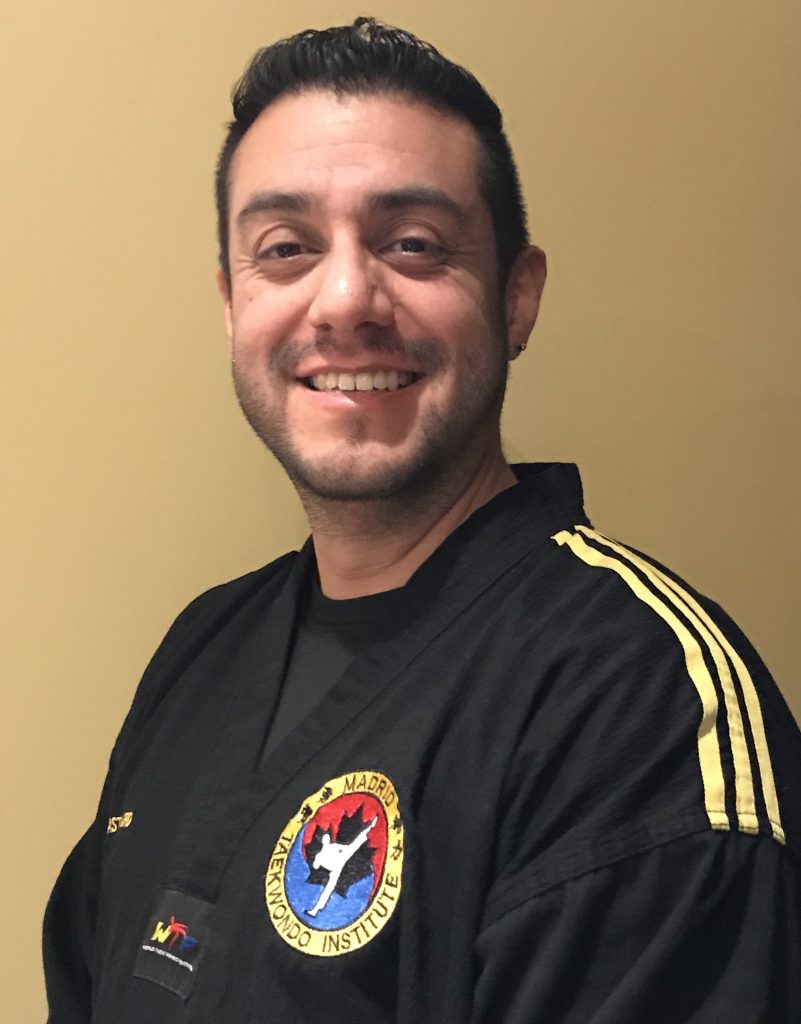 Owner Biography
Master L. Steve Madrid is a 5th Degree Black Belt certified by the Kukkiwon in South Korea and recognized as a Master in Canada. Master Madrid has been interested in martial arts since he saw Bruce Lee's "Game of Death" on TV at 8 years old with his dad, he then joined Taekwondo in September of 1991 when he was 13 years old with his older brother at the Toronto West location of Grand Master Ken Cheung's Taekwondo in Annette Recreation Centre under the instruction of Master Dean R. Iacobucci.
In the summer of 1993 Master Madrid would train with Master Tam at Toronto's former Army Base located on Keele Street north of Lawrence (now Downsview Park) and learned Kung Fu, from that day forward Master Madrid trained Kung Fu on his own time and Master Tam was now considered his second instructor. In 1995 Master Madrid, now a red belt, began assisting in teaching classes as part of his responsibilities as a senior rank, from that moment until his 1st Degree Black Belt he assisted teaching more frequently and decided to choose the instructor path.
Throughout his Taekwondo training Master Madrid attended local and regional tournaments from 1992-2006 including Cheung's Taekwondo Innerclub tournaments on a yearly basis, he has won many trophies and medals amongst his accomplishments. Master Madrid attended his last tournament at Cheung's Taekwondo Innerclub in May of 2006 hosted at George Brown College Casa Loma Campus, he earned 1st place in patterns and after fighting in three (3) matches he earned 2nd place in sparring to finally hang up his sparring gear for good retiring from competition at 28 years old.
Master Madrid attended a National Coaching Certificate Program (N.C.C.P.) in August 1997 and earned his Level 1 certification, that same year in December he tested and earned his 1st Degree Black Belt recognized by the Kukkiwon in Seoul, South Korea. Master Madrid continued his training after his instructor officially opened Iacobucci's Taekwondo Academy (now MuDo Academy Inc.) where he started teaching as an assistant instructor. In June of 2007 he started teaching consistently at Armour Heights Community Centre in Toronto as Head Instructor where he learned how to teach and attained his experience through trial and error until resigning in August 2017. Master Madrid's dream has been to open up his own school since 1998 and he saw this opportunity as the stepping-stone to achieving his dream.
Master Madrid was also part of the renovation team at MuDo Academy Inc. from January to July 2015, he also assisted in the early stages with driving for the after school program and was able to help out as a back up driver throughout the 2015/2016 and 2016/2017 school years.
Master Madrid continued to teach and train in order to keep up to date with his material. He wanted to keep testing and earning more Black Belt Degrees; as his main goal was to be 4th Degree Black Belt Master. In August 2015 he tested for his 4th Degree and successfully passed earning his Master Black Belt recognized in Ontario, his next goal is to earn his 6th Degree Black Belt recognizing him as a Master Worldwide.
Master Madrid has been involved in Taekwondo for the past 28 years but along with his Taekwondo training he also continues with Kung Fu and Aikido training on his own. He has always had an open mind about learning and attaining as much knowledge of other martial arts disciplines and this is the reason why his Self Defence Techniques (that are part of his school's curriculum) has Mixed Martial Arts (MMA) as well.
Finally in November of 2017 after three (3) months of not teaching his former students from Armour Heights Community Centre, the parents felt that the students needed to be under Master Madrid's instruction with Taekwondo and decided to follow him. Madrid Taekwondo Institute was established January 2018 and became an official Taekwondo school through Taekwondo Ontario Formerly Ontario Taekwondo Association (OTA) on March 18, 2018; his dream of owning and operating his own school had finally come true after 20 years.
Master Madrid is a very involved father, as his son Nathaniel has been training in Taekwondo since 2013 when he was 6 years old and is just one of the many things they share. Nathaniel tested for his 1st Degree Black Belt on June 15, 2019 and passed successfully. Master Madrid now teaches at two (2) locations, the main Headquarters located in Toronto and a second location in downtown Brampton. Master Madrid also has clients whom he teaches private one on one Self Defense classes and has also conducted Women's Group Self Defense classes.